The big shipyards in Sweden were very succesf

ul during the years after the second world war. Newbuildings were demanded to an extent that caused very long delivery times.

This was the time when Wilhelm Gotenius and Rolf Moberg dared to start a small shipyard at Färjenäs.

In 1950 the shipyard was moved to Ringön, where it still is located. Today, more than 60 years later Gotenius shipyard has grown to one of the leading Swedish repair yards for coasters, special purpose vessels and vintage ships..

But not only repairing. During the years we have also built some new ships and lengthen a number.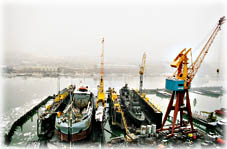 However during the last years we have emphasized on repairing and maintenance and from being very little known in th 50s, we are now very satisfied of being among the bigger within our field in Sweden